When you bring your cat to All About Cats Veterinary Hospital, you can expect caring staff and attentive vets who care for your pet like it's their own. We want to keep your cat healthy throughout all its life stages. And when you come to our clinic, you can relax knowing that each veterinarian in Las Vegas at our practice is cat savvy and knows the particularities of treating her feline patients.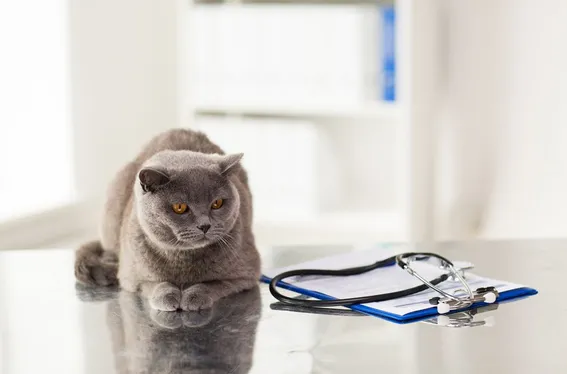 Preparing for Your Cat's Exam
Before you bring in your cat for an exam, there are several things you can do to expedite your visit. First, download the paperwork from our website. Fill it out and bring it with you to our clinic or email it to our office. This will make the check-in process easier.
Because we understand that cats can be difficult to handle sometimes, we offer tips for getting your cat into its carrier. If you have an especially hard-to-transport feline, call our office. We can recommend supplements or medications to help calm your cat.
To help you know what our vets may suggest, check out our information on life stages. Just like people, cats require different care at various ages. If you don't know your cat's exact age, make your best estimate. The information is helpful for the vet who will evaluate your cat based on its current age and lifestyle.
There are a couple of other things besides our paperwork you will need to bring to your cat's first visit. Collect a fresh stool sample from the litter box as close to the appointment time as possible and keep it refrigerated if possible. Also, bring any records you have from previous vets your cat has been to. This information helps us establish a medical record for your feline.
What Your Cat Veterinarian Will Do During a Visit
How long the cat veterinarian spends with your pet depends on the reason for the visit. Stay close because our vet will have several questions about your cat's typical behavior and if anything has changed.
Our staff always starts an exam by taking the temperature with an ear thermometer and checking your cat's weight. Our veterinarian will ask questions and you will have time to ask your questions as well. This is an important part of the visit that we try not to rush. The vet will then perform a thorough "Nose to Tail Examination."
Based on the exam and your report, our vet will prepare a written plan and costs will be discussed before anything is done. If your cat needs medication, we'll send you home with the type you need and even demonstrate how to give it to your cat. For more information about administering medications, check out our suggestions.
We Really Are All About Cats, so Call And Make An Appointment Today!
At All About Cats Veterinary Hospital in Las Vegas, we care about your feline companion. Set up an appointment online or call us today at 702-666-0252 for premium cat care in a friendly environment. We hope to see you and your feline soon!