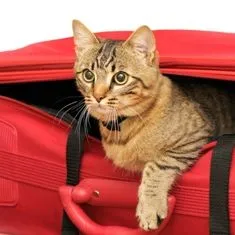 At All About Cats Veterinary Hospital, we are proud and grateful that you care so much about your cat's health and happiness. You're doing the right thing by scheduling regular veterinary visits, and we're glad you want to make the experience more peaceful for your cat. Our Las Vegas veterinarians want to minimize your cat's stress, too. That's why we focus exclusively on cats in our clinic, and why we want to share some of our favorite tips for transporting your cat to the vet.
However, before we get to the tips, we want you to remember one thing: if your cat is stressed or upset, it's not your fault. In a cat's eyes, car rides and vet visits aren't considered relaxing and fun. It's stressful to leave the comforts of home and the daily routine. We want you to know that having anxiety about the trip to the vet is completely normal and to try to focus on the benefits of veterinary care as you learn a few simple ways to get your cat into the carrier and through the car trip.
Invest in a Top-Loading Carrier
If your cat associates the carrier with car rides, they probably won't stroll inside and wait for you to close the door. If getting your cat into the carrier is always a struggle, we recommend a top-loading carrier. Unlike front-loading carriers, these models allow you to lower your cat inside, then lift them out again.
Top-loading carriers give you a little more control, but they also make life easier for your cat. You can easily reach inside and comfort your cat in the car, waiting room, and exam room.
Keeping the carrier out in your living spaces year-round may help your cat to change his or her association with the carrier. Often cats will adopt the carrier as a comfortable hideaway. To get your cat used to the carrier, you can have playtime and offer treats near the carrier.
Be Positive
We know it's hard to see your cat upset, but we know you understand the importance of preventative wellness care. Fortunately, there's one part of the experience you can always control: yourself. Your cat knows your usual body language and tone of voice, so just try to "be yourself" and focus on the benefits of visiting the vet.
Remember: no matter how much your cat dislikes the experience, a few hours of stress are much, much better than any amount of preventable pain and suffering. Your routine visits to All About Cats Veterinary Hospital will reduce your cat's risks of needing more intensive, stressful procedures later. If you find that it's difficult to speak in a soft voice or relax, just focus on the fact that you're protecting your pet.
You know your cat better than anyone else. Before and after your visits to All About Cats Veterinary Hospital, we encourage you to familiarize yourself with your cat's "tense" behaviors at home. If you know how to soothe your pet at home, you'll be more comfortable and confident at our clinic.
Schedule Your Cat's Visit Today
Is it time for your cat's next wellness exam? Our Las Vegas veterinarians can help you keep your cat on track with booster vaccinations, diagnostic screenings, and more. Call (702) 257-3222 to make an appointment today.
To make your cat's trip less stressful, read more tips posted here, or watch an excellent video here.