*(Please allow up to 24 hours for a response if contacting us by e-mail)
We are currently not able to take new clients at this time, but please contact us to be added to our waiting list!

Find us on the map here!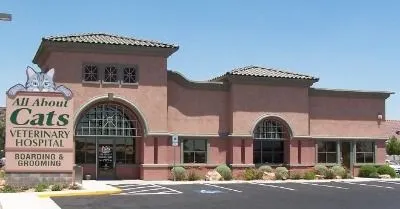 Our Las Vegas Veterinary Hospital is dedicated to the care and well being of your feline pets. Our full-service feline veterinary hospital's highly-skilled, compassionate veterinarians and staff feel that your feline animal companions deserve the highest quality care and attention possible without the stress of canine sights and smells. In addition to traditional animal vet clinic services, such as vaccinations and check-ups, we also provide pet boarding, pet wellness care, dental care, and a fully-equipped cat diagnostic and surgery center.

For Las Vegas Veterinary Emergencies after hours, please click here.

Our Las Vegas Veterinary Hospital has been practicing veterinary medicine since 2001 and continually strives to provide the highest quality services in a compassionate, comforting atmosphere for your cats. We help cats and their families feel at ease, especially during times of emergency or illness. Our Las Vegas animal hospital's veterinarians and their highly-skilled staff are ready for any feline emergency five days a week. If a pet has an urgent care need, please call us ahead of time so we can advise about first aid and prepare to help the moment your cat arrives.

Our website offers pet care articles to learn more about the needs of your pets and you can call us here any time a question arises. Pet wellness and preventative care are also critical aspects of our cats-only program. As much as we love helping sick and injured pets get healthy again, we really love helping families keep their cats healthy in the first place! Our veterinarians stress preventative care for your cats, including the necessity of appropriate vaccinations, dental care, good nutrition, exercise and behavioral issues. Our Las Vegas animal vet clinic also provides cat boarding services. Families can rest easily knowing that their cats are staying in a comfortable, clean, safe and enjoyable atmosphere where our vets and staff are on hand for an experienced, watchful eye. We feed and play with your cats and can also administer any necessary medications to them while you are away. Please feel free to browse our website for more information about our services, including our wellness programs and other special offers.