At All About Cats Veterinary Hospital, we are the area's one-stop shop for all felines' health and wellness needs. Our dedicated and experienced Las Vegas veterinarians have been proudly serving the surrounding area for more than 18 years. We provide everything from cat wellness and preventative care to spay and neuter, grooming, and even dental care. If you've been looking for a veterinarian you can trust that is completely devoted to the health of your feline friend, you've come to the right place.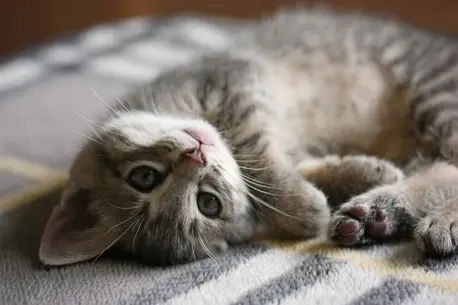 What You Need to Know About Cat Wellness Care
Keeping your cat happy and healthy throughout all stages of his or her life is important, but with so much different advice floating around out there, it can be difficult to know what's best for your cat.
Nutrition
What's the best diet to feed your cat? Of course, there is no "universal" answer to this question, as each cat's dietary and nutritional needs can vary greatly based on age, size, breed, and many other factors. In our office, however, our veterinary team can provide recommendations and suggestions regarding your cat's nutrition. For instance, if your cat is overweight, we can make food recommendations and even offer prescription formulas that can help your cat return to a healthy weight (along with exercise and higher activity levels).
We can also provide you with some general advice on how much you should be feeding your cat per day. Free-feeding an unlimited amount of dry food every day is falling out of favor due to high levels of obesity in cats. Supervision by our veterinary team is often necessary when making the transition away from free-feeding.
Grooming
Whether you have a short- or long-haired cat, proper grooming is important. Some pet owners make the mistaken assumption that short-haired cats do not need grooming, but this simply isn't true. In addition to brushing your cat's fur at least once a week, you should also be sure that your cat's nails are trimmed as needed and that any other necessary grooming tasks (such as gland expression or ear cleaning) are taken care of. For longer-haired cats, more frequent grooming may be required to avoid fur clumps, which can be very painful for your cat and quickly get out-of-control.
In our office, we offer cat grooming services, including lion-shaving. This is done under anesthesia to ensure that your cat remains as comfortable as possible during the process. Your cat will be carefully monitored during all stages of anesthesia as well.
Life Stages
Your cat's health and wellness needs change as he or she ages, so the wellness plan you have for your kitten may not be the ideal wellness plan for an adult or even a senior cat. Fortunately, our veterinary team is here to help through every single stage of your cat's life. From booster shots for kittens to senior wellness care, we've got you covered. Ultimately, our goal is to make sure that your cat has the compassionate care needed to lead a healthy, happy, and full life. And the best way to do this is to bring your cat in annually or even twice annually for wellness exams.
Request an Appointment With Our Las Vegas Veterinarian
If your cat is due for a wellness exam or if you have any concerns about your cat's health, be sure to schedule an appointment with our Las Vegas veterinarian. You can reach our friendly and knowledgeable team at All About Cats Veterinary Hospital by calling (702) 257-3222.