All of our premium amenities are included in the price of boarding. You won't see "a la carte" and "extra charges" that are common at other boarding facilities. We believe that every cat deserves 5-star service in a quiet, calm environment! Boarding facilities range in their attention, training and understanding of cats. You can have peace of mind that not only will your cat be carefully watched, and thoroughly provided for, but your cat(s) are amongst feline enthusiasts. We are the preferred boarding facility for cats with special needs like health problems, mobility issues, daily medication administration, or special dietary requirements.
What's Included in our daily boarding rate for no additional charge:

Low stress boarding without any barking or scary dogs
Constant care from our knowledgeable staff who are passionate about cats.
Supervision by our veterinarians (see below for more information.)
Bountiful amounts of attention from our cat-loving staff. Complimentary hugs, chin scratches, 'red-dot' laser toy chasing, and soothing words of comfort are commonly given to the boarding cats in our care.
Constant cleaning and sanitizing all of the areas your cat will have access to during their stay.
Glass front two-room suites, no jail bars. Each cat gets their own two-room suite for lounging. Two suites can be connected with an adjoining door making a four room suite to house two cats from the same family. Each suite is 24 inches deep by 28 inches wide by 24 inches tall with an elevated resting bench for cat naps measuring 12 inches deep by 28 inches wide. The attached second room of each suite is a private, comforting cubby measuring 12 inches wide by 17 inches deep by 12 inches tall.
Our boarding room can be viewed from our lobby. Unlike other boarding facilities where animals are housed out-of-sight somewhere in the "back," there are no secrets here!
Play time out of the suite for at least 30 minutes twice a day if your cat chooses. Our play areas have toys, beds and scratching posts. Catnip is complimentary!
Comfortable bedding, dishes, private litter boxes, and an array of toys for each suite.
A little privacy if your cat prefers. We will place a privacy screen over a portion of the suite window until your cat settles in to give them a space to feel safe in. If this is not enough for a particularly nervous kitty, we do provide 'hidey beds' to allow even more privacy as we know that cats love to spend time in small, dark, comfy spaces for naps.
A dedicated air ventilation system with continuous airflow through our suites for the comfort and health of our boarders.
Dry food, canned food AND treats are provided while cats are staying with us. We feed twice a day and routinely feed Science Diet and Royal Canin brand foods. Of course, you are encouraged to bring the food your cat already eats when at home for an easy transition while boarding with us.
Appetite encouragement. Being away from home can alter a cat's appetite. We have many types of yummy canned and dry foods as well as tuna and treats to tempt their palate and can offer these to entice your cat to eat, with your permission.
We offer water that is filtered by reverse osmosis, to all of our patients and boarders.
We are not JUST a boarding facility. Our Veterinarians supervise your cats' entire boarding experience to ensure the best possible care, the following is also included in our boarding price:
Medical Chart Review by the Doctor to determine if there are medical concerns to be monitored or addressed during their stay.
Medical Chart Updates while boarding include updating your cat's current weight, noting any weight changes, noting any medication changes, noting any vaccinations due, and determining if follow-up testing is due.
Your cat will have a "Cage Card" on his/her suite which lists all special instructions and medical conditions. The Cage Card is used to keep track of your cat's well being, activity, play time, appetite for each type of food and treats, thirst, urination, bowel movements and anything out of the ordinary. This cage card is kept in your cat's permanent medical record.
Our entire staff does "Rounds" every day and visits every cat in every suite, reviews the cage card and discusses the comfort and well-being of each boarder. Should anything be of concern, the doctor will devise a plan to get things back on track.
If your cat is especially nervous, we may provide medications to help him/her relax, with your permission.
We will provide appetite stimulant medication if we cannot entice your cat to eat or if your cat cannot stray from its special diet, with your permission.
Being away from home can alter a cat's bowel habits. If your cat is having trouble using the box regularly, we will administer a mild enema. We don't want our boarders to become constipated which can be uncomfortable and can cause a decrease in appetite.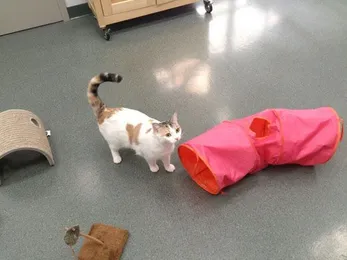 Important requirements for boarding at All About Cats:
Boarding at All About Cats Veterinary Hospital is reserved for established clients that utilize our hospital routinely for their cat's medical care and consider us their primary care veterinarian. If you have not used our services for medical care in the past, please contact our office to discuss the requirements to establish yourself as a regular client. (702) 257-3222
For cats to board, we require an annual examination performed by one of our veterinarians. We also require cats to be current on vaccinations for Rabies and Distemper which is also known as the FVRCP vaccine.
Prepayment of all estimated charges is due at check-in.
We unfortunately cannot board cats for longer than 30 days.
We require male cats over 6 months of age to be neutered.
We discourage very young kittens to be boarded away from home.
If you won't be reachable while away, you are required to select an emergency contact person who can make decisions for you.

A Day in the Life of our boarding cats.
A day in the life of a boarding cat starts with a visit from a team member to say good morning and check their well-being. The cage card is updated to reflect appetite, thirst, urination, bowel movements, vomiting and activity level. The cage is cleaned and sanitized and breakfast is delivered to their suite. After breakfast and morning medications (if indicated,) each cat will individually rotate through playtime in our main boarding room, or our playroom, to stretch their legs or take a nap. Most housemates will experience their playtime together to allow positive interactions and comfort during boarding. We do not allow intermingling of cats from different households.
During this time the staff are often found playing with the cats in the playroom or snapping candid pictures of the kitties that will sometimes show up on our Facebook page giving some of our boarders their 7 minutes of fame 😊. We do have a television in our boarding room that continuously plays videos that are visually attractive to cats to entertain their mind so that they don't get bored. Throughout the day, our nurses are routinely checking on all boarders to make sure each kitty's needs are constantly being met.
Mid-day, our entire team including our veterinarians gather for 'rounds' where every cat in the hospital is visited and discussed to ensure they are eating and drinking well, that they have settled in well and are using the restroom regularly. At this time, we are also double checking that every cat has a comfy set up, privacy screens if needed, toys and anything else that may make their stay more comfortable. If anything seems 'off' with a cat, one of our doctors will look at them more closely and decide if additional therapy is required.

If there are any concerns regarding your cat, a staff member will contact you or your emergency contact to discuss any suggestions we may have to help your cat settle in.
In the late afternoon, our cats receive dinner, evening medications if indicated, and then are checked again one more time before the end of the day to make sure they are settled in for the night. When boarding at All About Cats, we provide a calm and peaceful environment as we strive to achieve that 'home away from home' feeling for all our feline guests.
Call (702) 257-3222 today to learn more!