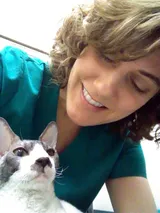 Welcome to All About Cats, where we maintain a cat-only veterinary practice for cats and kittens of all ages. We invite you to explore our philosophy of care, services, and the experience and qualifications of our Las Vegas cat veterinarians.
About Our Las Vegas Veterinarians
Our founding veterinarian Dr. Terri Koppe established All About Cats in 2001. Since then, our privately owned practice has grown to accommodate the needs of cats and their owners throughout the greater Las Vegas area. We are fortunate to have skilled, compassionate veterinarian Dr. Jody Morris. Together, these Las Vegas veterinarians take the time to get to know the cats in our care and provide high-quality service as if every cat were one of ours.
Our Veterinary Services
For your convenience, we provide the following services in our cat veterinary hospital:
Cat wellness care - At All About Cats, we know that wellness care is the key to keeping your cat healthy at every stage of life. We provide cat-centered medical care to focus on the needs and health of your cat. At a first appointment, your cat will be given a thorough examination and vaccinations will be discussed and individualized based on your cat's risk level. We can discuss spay and neuter services, cat nutrition, health needs for each life stage and behavioral needs.
Cat boarding - Whenever you go away, it is natural to worry about your cat's health and welfare. We offer cat boarding services to keep your cat healthy and engaged while you are away, and provide you with the peace of mind of knowing that your cat is in the best hands. We welcome senior cats, cats with medical needs, cats with special diets, and cats with mobility issues. All of our cat boarding is doctor supervised, so you can relax knowing your pets are properly cared for.
Cat grooming - Cat grooming is essential for long-haired breeds, especially during hot Las Vegas summers. Let us perform sanitary "under the tail" shaves and/or matt shaves. We can even give your kitty a lion cut, which we perform under anesthesia to keep your cat comfortable. Get your cat groomed by the people you trust to care for your cat year round.
Cat behavioral counseling - We focus on solving behavioral issues from a cat perspective, offering you insight into why your cat behaves in a given manner. Look to us to help you address behavioral issues like improper elimination, aggression toward pets or people, or destructive behavior such as scratching furniture. We will make sure there is no underlying medical issue and offer you valuable tips to manage the behavior.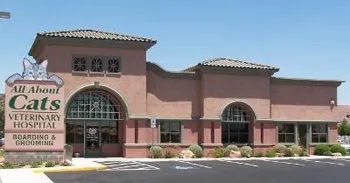 Would you like to make an appointment at All About Cats Veterinary Hospital? For your convenience, we are open Monday-Friday from 8:00 a.m. to 6:00 p.m. To schedule an appointment for your cat, simply call (702) 257-3222. We look forward to taking the best care of your kitty!