Brand of Vaccine
Vaccine brand does matter! So at All About Cats Cat Veterinary Hospital, we offer only Merial "PureVax"brand vaccinations, which were developed expressly for cats.
The PureVax line of vaccinations does not contain heavy amounts of proteins, also known as "adjuvants," which can cause adverse reactions and immune system responses.
PureVax is the only brand of feline vaccinations that manufacture a non-adjuvanted Rabies and Feline Leukemia vaccine.
Unlike many veterinary hospitals, we are dedicated to offer only this brand of vaccines to prevent unnecessary exposure to adjuvants to our special feline patients.
What Vaccines are Needed?

Here at All About Cats, our veterinarians are dedicated to making sure cats are not over-vaccinated. To that end, we take your cat's lifestyle and health into consideration when we develop a custom vaccination schedule.

We are guided by the recommendations made by the American Association of Feline Practitioners, who rely on published data as well as the consensus of a panel of experts in immunology, infectious disease, internal medicine and clinical practice.
A good rule of thumb is to remember that all cats should have a wellness examination at least once a year. At this annual visit, you and your veterinarian can discuss the necessary vaccines considering your cat's lifestyle and health status.
Cat Risk Groups
We categorize cats into three risk groups to determine vaccination schedules:
"Safe Kitties"
"Safe Kitties" are at minimal risk of contracting contagious viruses from other cats. Because they're typically kept only indoors or are supervised closely while outside, these cats do not come into physical contact with cats outside their household. Cats that share the home are also kept indoors and have had the Feline Leukemia blood test.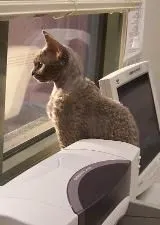 Our recommended protocol for "Safe Kitties":
Receive a yearly wellness examination
Be vaccinated for the Rabies virus every one year (if using the PureVax Brand 1-year Rabies Vaccine)
Be vaccinated against Feline Distemper (FVRCP) every three years.
Vaccines against the Feline Leukemia Virus are not necessary.

"At-Risk Kitties"
"At-Risk Kitties" are at some risk of coming into contact with cat(s) carrying contagious virus. They typically have unsupervised outdoor access or come into contact with a cat who has outdoor access. Indoor cats can also become at-risk if new cats are introduced into their home.
Our recommended protocol for "At-Risk Kitties":
Receive annual wellness examinations

Receive a yearly Rabies vaccination (if using the PureVax Brand 1-year Rabies Vaccine)
Receive a Feline Distemper (FVRCP) vaccine every three years
Receive a yearly Feline Leukemia virus vaccination

Kittens Under a Year Old
For kittens under one year old, our recommended protocol is:
Receive a wellness examination with each vaccination and booster to ensure they are growing well and experiencing no

complications from illness, starting at 8 weeks old.
Receive two or three Feline Distemper (FVRCP) shots, with each shot being three to four weeks apart
Receive their first annual Rabies vaccine
Receive two Feline Leukemia vaccines with each shot being three to four weeks apart
To get your vaccine questions answered and to schedule your cat's vaccines and/or annual wellness examination, call our Las Vegas veterinary hospital at (702) 257-3222.