Anesthesia and surgery are taken very seriously at our cat veterinary hospital. Our cat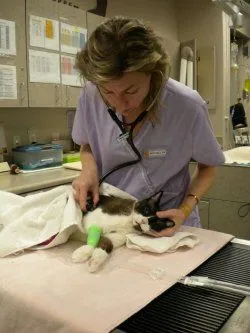 hospital staff treats every surgical procedure as if it were on our own pet. Here at All About Cats Veterinary Hospital in Las Vegas our cat veterinarians, Dr. Terri Koppe, Dr. Jody Morris, Dr. Heather Zamzow and Dr. Samantha Stewart focus on using anesthesia safely and effectively to ensure the experience is as stress-free as possible for you and your cat. Our anesthetic procedures include additional safety measures, close monitoring of the patient, and the inclusion of an assistant that is dedicated to each cat as their 'patient advocate.'
Experienced Anesthesia Administration at Our Cat Clinic

At our cat veterinary hospital we take great care to protect your cat's health and comfort from the moment he or she enters our cat clinic. We start with a thorough pre-operative exam done by our veterinarian. Blood work is performed and a blood pressure is taken to check for any hidden health issues. This testing is mandatory for cats 7 years old or older and highly recommended for all others as well.
For routine procedures like spays and neuters, we include necessary pain medications, anti-inflammatories, antibiotics and other drugs in the procedure cost, including injections needed while in the hospital AND medications to go home.
During the procedure, we "intubate" cats while under anesthesia which is the insertion of a breathing tube into the trachea, instead of simply providing an anesthetic mask, allowing for greater safety for the patient.
We also administer fluids through an IV to keep your cat hydrated and normalize his blood pressure during surgery -- an extra touch for which many other veterinary hospitals charge an additional fee. The IV also gives us means of quickly administering other medications if the need arises.
We even compensate for changes in body temperature caused by anesthesia, placing warming blankets and baby socks on your cats feet to keep them warm.
Most importantly, throughout the actual procedure, your cat is closely watched by our cat veterinarian and also by an anesthesia assistant who acts as your cat's "patient advocate," staying close at hand from the beginning of the procedure through recovery. The patient advocate stays with each patient until completely recovered, undistracted by any other tasks. We monitor significant vital functions closely and record them accurately from beginning to end. Blood pressure, blood oxygen levels, heart and respiratory rates, body temperature, pulse, lung and heart sounds, mucous membrane color -- all of these telltale health indicators receive constant scrutiny.
When your cat comes out of the anesthesia, we monitor him closely for signs of pain or disorientation. If he needs a little more time to recover, we will make sure he has that time before we release him from our Las Vegas cat hospital. Since cats tend to hide their pain, we will help you learn how to recognize signs of discomfort so you will know when and how to address the problem at home. We will also teach you how to administer the post-op medications and provide tips for how to make it as easy as possible.

We monitor ourselves as closely as we monitor our patients. For one thing, each doctor is only scheduled for two procedures per day at our cat veterinary hospital so we can stay alert and focused at all times on each special patient of the day. This is different from many other veterinary facilities who impose no such limit and often perform surgeries in an "assembly line" fashion.
We continually educate ourselves and train our staff on current anesthetic drugs and protocols, and we make sure that our equipment is always in proper working order. Your cat deserves no less!

If you have questions about an anesthetic procedure or would like to schedule an appointment, call us at (702) 257-3222.