Cat Services From Your Las Vegas Cat Clinic
At All About Cats Veterinary Hospital, we only treat cats and have the experience to cater to their specific needs and health concerns. We focus solely on the care of felines and make sure their visits with us are as calm and comfortable as possible. Our Las Vegas cat veterinarians are all cat lovers who pay special attention to your cat's unique healthcare needs. We recommend regular well care appointments so we can look after the routine wellness needs of your cat including cat vaccinations, and cat dental care. Our on-site pharmacy conveniently offers flavored cat medications and special cat food products to keep your pet happy and healthy. Our cat food selection includes Hills Science Diets, Hills Prescription Diets, Royal Canin Veterinary Cat Foods, and Purina Veterinary Diets.
---
Complete Wellness Care
Exams and Consultations for New Kittens, Adult Cats, and Geriatric Cats.
Vaccines selected for your cat's lifestyle
Spays & Neuters
Behavior Counseling for all age groups including consults for destructive scratching, aggression and litter box avoidance
Dental Examinations and Cleanings & Dental X-rays
Medical and Surgical Treatment for Feline Diseases
Urinary Tract Disease
Feline Asthma
Feline Diabetes
Hyperthyroidism
Kidney Disease
Heart Disease
Urinary Stones
Pancreatitis
Hepatitis
Dental Disease
Chronic Nasal Disease
Thorough Diagnostics
Bloodwork
Urinalysis screenings
Hypertension testing
Radiology, including Ultrasounds
Endoscopy
Boarding
Grooming
Complete Pharmacy of Cat Medicines
Specialty Feline Diets
---
Behavioral Counseling, Surgery, and Disease Care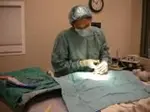 If your cat has certain behavioral issues we can provide counseling for such problems as litter box avoidance, feline aggression, scratching or other destructive behaviors.
Our cat sick care services include care for such diseases as feline asthma, feline diabetes, and chronic nasal disease.
Feline surgical care services are available for spay and neuter procedures, or as needed for treatment of conditions such as kidney disease, hyperthyroidism, urinary stones, and pancreatitis.
---
Cat Boarding and Grooming Services at Our Las Vegas Cat Clinic
Our Las Vegas cat boarding services are available for cats that are being observed after a

procedure and also as temporary homes when needed if you are traveling or if there is some type of disruption in your home routine. We feature a calm, comfortable cat boarding environment free of the noise and smells of dogs.
Our veterinarian supervised facility features spacious individual glass front, two-room suites, elevated resting benches and caring supervision by our cuddle-happy staff. They even get to watch a large television screen that plays cat nature videos!
Our staff gathers every day to discuss each cat that is staying with us. If your cat is displaying any unusual symptoms or behaviors, our cat vet is notified immediately. We make sure to provide the proper dietary care and all medications are dispensed as directed. A special ventilation system prevents the spread of airborne infections.
We do not offer traditional cat grooming services. However, At All About Cats we offer "lion shave under anesthesia" cat grooming to provide grooming for cats that do not tolerate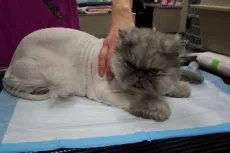 being handled by professional groomers. During this unique grooming service we place your cat under anesthesia and then shave his fur, except for the face, tail and paws. This approach helps keep your cat cool, reduces the amount of hairballs your cat will ingest, and keeps long-haired cats from developing matting problems. We also check your cat's skin for any sign of disease or infection. Your cat is closely monitored before, during and after the procedure.
Whatever stage or age your cat is in, from kitty to full-grown senior, we provide experienced care in a cat-friendly environment. Whether you need medical, cat boarding or Lion Shave cat grooming bring your pet to All About Cats Veterinary Hospital where we provide "Experienced, Loving Care Just for Cats!"
Call us at (702) 257-3222 today.